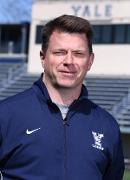 The last seven (2010-2016) seasons under Andy Shay, who completed the 13th season of his first collegiate head coaching job in 2016, have been historic for the program on many levels. The Bulldogs have gone 76-31 with six (five consecutive) 10-win seasons. The .710 winning percentage over that stretch is the best since the Elis won 69.89% of their games from 1988-1993. Shay has also directed the Bulldogs to seven straight Ivy League Tournament appearances, four Ivy Tournament Titles, a 2010 regular-season Ivy League Championship and four NCAA appearances, including Yale's first in 20 years.
Winning the 2016 Ivy League Tournament gave Shay four championships in seven years of league tournament play. It was part of a 13-3 campaign that included jumping out to a 10-0 start and being ranked No. 1 for a few weeks.
His 2013 team was his most successful with a 12-5 mark, an Ivy League Tournament title, a win in the first round of the NCAAs at Penn State and a final No. 7 national ranking. Only a late comeback by top-ranked Syracuse in the final minutes of their NCAA Quarterfinal contest at College Park, Md., prevented the Elis from making the national championship weekend for the first time since 1990. The team made history by becoming the first squad to win back-to-back Ivy Tournament championships and the corresponding NCAA Tournament qualifier.